5th Iran Internet Programming Contest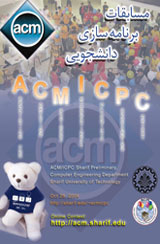 Problems
test cases
participants
standings
Sharif standings

This contest is held for the 5th time in Iran with the goal of encouraging programming and problem solving in Iran and also help Iranian universities select their best teams to attend the 2007 ACM/ICPC Tehran site contest.

General Rules
All teams should have the qualification of taking part in the ACM Programming Contest.

Students at the "Pish-Daneshghahi" level can also participate.

All teams should register in the ACM/ICPC website in the site named "Iran Internet Programming Contest" in the tehran site.

Important: Do not register in other sites. This is the link. Follow the Registration link. Create a coach account. Open the account and provide all information asked for three team members. One of the members can be the coach.

Each team should have ONE valid email address to be used during the competition.


All rules for ACM/ICPC will be followed. Read the rules.